The book Astaan e Ramal is composed by Nazeer Ahmed Choudhry. It consists of 156 pages.
Learn ilm e Ramal in Urdu and Hindi PDF
In this book, you can read about ilm e ramal ki ibteda kesey hoi, ilm e ramal ki ashkaal or enke fuwaid, zaicha tiyar karney ka tariqa, hindso ke zariye zaicha tiyar karna, harof e abjad ke adaad, Anaasir e ramal, ramal mein ehkam e zameer, ramal ke zariye mukhtalif baton ka ehwaal janna, sitare ka naam, bara burj mein gardish e aftab, naqsha e saat maloom karna, Talib o matlob muqta, kefiyat e ashqal saad o nehs, ilm ul adaad.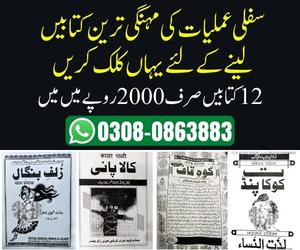 You can download this book for education purposes by pressing the below link.