Hal ul Mushkilat Mujrab Amliyat o Tawezat ki Mustanid kitab. Ulma ki negraani mein taseeh shuda jadeed edition. It contains 112 pages. It is written by Hazrat Moulana Rehm Elaahi Shah Sahib Chishti Qadari Naqshbandi.
Best Amliyat o Tawezat in Urdu and Hindi PDF
In this book, you can read about Amal ke qaidey, Dua mangney ka tariqa, Jumla afaat se hifazat, Janwaron Ki aziyat se mehfoz rahey, Israar e ghaibi, Zuban bandi, Banch Aurat Hamla ho, haiz, Kund zehn, Dard e Qolanj, Shaitani waswasay, Dafa jado o sehr, Ashob e chasham, Asqat e hamal, Qaza e hajaat, online Istikhara, kala or sifli jadoo.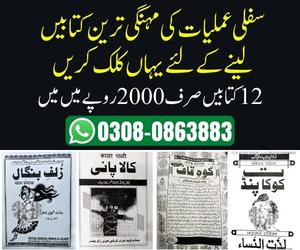 You can download this amliyat book in PDF format by clicking the below download now button.