Today I am going to share with you Jinnat books in Urdu pdf format for educational purposes. In these books, you can read powerful and mujrab amliyat to capture Jinaat.
Jinaat ko Taskher or Qabu Karny Ke Amliyat
Dawat e Jinaat
Sufi Muhammad Nadeem Muhammadi is the writer of this jinaati book. It consists of 147 pages. Es kitab ki madad se tamam khuwateen o Haziraat es Rohani taqat se faida otha saktey hain. Ap es kitab mein Quran e Majeed ki tamam surton ke moukalat ko taskher karne ke mujrab amliyat parh saktey hain.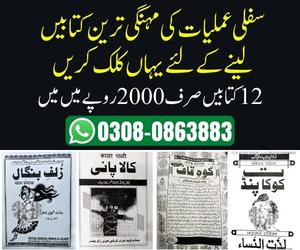 Hazirat e Asaib o Jinnat
Mulazzim Hussain ki ye nayab jinaat or asiab ko qabu karne ki kitab 110 pages per mushtamil hai. Es kitab mein apko mandraja zail topics parhne ko melengey;
Asaibi marez or Asaib ghar ki alamat
Amraaz ko tashkhees karne ke mujrab tariqy
Asaibi amraaz ke liye mujrab ul mujrab amliyat o tawezat
Tawez Gandon Or Jinnat o Jadu Ka ilaaj
Abu Adnan Muhammad Munir Qamar es kitab ke musanif hain. or ye kitab 80 safhat per mushtamil hai. Es kitab mein ap jinaat ke baray mein her tarhan ki malommat hasil kar saktey hain. Sifli jado, kale jado, alvi jadu, black magic spells, ka mujrab or azmouda ilaj bhi likha giya hai.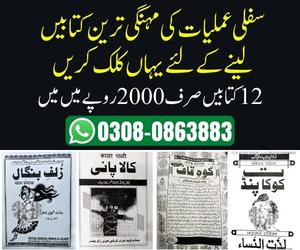 Amliyat e Asaib Mah Taskheer Jinaat
Anwar Hussain Khan ki ye jinaat ko taskher karne ki kitab 63 pages per mushtamil hai. Ap ko es kitab mein mandrja zail topics parhne ko milengy;
Jin ko taskher or qabu karne ka amal
Surah jin ka mujrab tawez
Jin Dewi or Asaib ki taskher
Sehr Jado Tona or Asaib
Shaitani asrat se hifazat ka wazifa
Nazar e bad ka tord
Asaibi Alamat or asraat, etc.
You can also read Sifli ilm Books in Urdu, Shetani Amliyat Books in Urdu and Hindi, and Taskher e Shaitan o Jin PDF.