Today I am going to share with you the top 8 best Sulemani Jado books in the Urdu and Hindi language. In these books, you will find perfect Amliyat o Tawezat. These are lovely old magic books that have been used since ancient times.
List of Sulemani Jado Books in Urdu and Hindi
Ramooz Khatm Sulemani
Sufi Ghulam Sarwar Shabab authors this magic book and it consists of 322 pages. In this book, you can read the following main topics;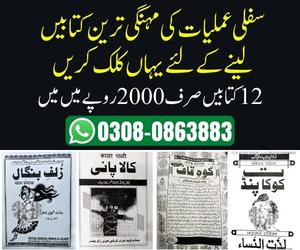 Types of Tawezat
Benefits of Ayat e Khamsa
Taskher e Jinat o Moukalat
Method of Making Hisar
Zakat Ada Karney Ke Tariqy in Urdu
Mehboob ko Hazir Karney Ka Nayab Amal
Moukalat of Surah Shams and Surah e Kausar
Sharf e Qamar Ka Loh Bananey Ka Tariqa
Naqsh e Sulemani
Khuwaja Muhammad Ashraf Ali is the writer of this jado book. It consists of 83 pages. In this magic ebook, you can read the following amliyat;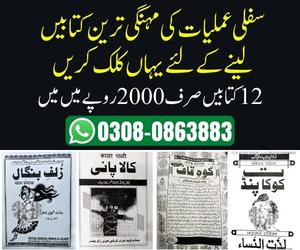 Dayera e Barooj
Saa'at Nama
Sitaron Ka Falnama
Naqsh Ki Iqsam
Powerful Amliyat o Tawezat
Her Tarhan Ki Sakht Hajat Ke Liye Amal
Dushman ko Dost Bananye Ka Naqsh
Dushman Ki Judai Ke Amliyat o Naqosh
Faiz e Sulemani
Munshi Sabit Ali Sahib Patwari Deobandi is the writer of this book. It consists of 18 pages. In this book, you can read about how to make powerful tawezaat and its folding method.
Moreover, You can also read about Tawez for Dil Mein Muhabbat Paida Karna, Amliyat e Hub o Muhabbat, Naqsh of Surah e Ikhlas and Surah e Naas.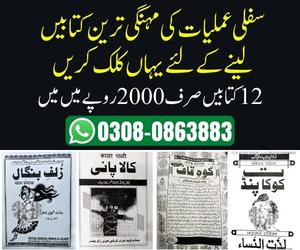 Johar e Sulemani
Moulana Ghousi Shah is composed of this sulemani book which has 26 pages. In this book, you can read about wazifa for the protection of Hamal, Wazaif, and amliyat for Aulad e Nareena, Neend ki kami ka Rohani treatment in Urdu, Sehr or Jado Ke Asrat Khatam Karney Ka Behtreen Amal, Magic Spells for Love Marriage.
Hirz e Sulemani
Khuwaja Ashraf Ali Lukhnuwi is the writer of this famous book, and it consists of 167 pages. Amliyat, Tawezat or Naqosh e Qurani Ka Anmool Zakhera Jo Her Qism Ki Bemarion Or Hajton Mein Zor Asar Hai.
In this famous magic book, You can read the following amliyat;
Namaz ka Zikr or tamam saal Ke Maheno Ki Duain
Fazail e nuwafil
Chor Ki Shanakht or Baramadgi e Maal
Shifa e Amraaz
Asma ul Husna or Falnama
Mantar Jantar Tillismat
Khuwabon Ki Tabeer in Urdu and Hindi
Asaib or Sehr Ka Khatma
Qaza e Hajaat or Dast e Ghaib
Mashhor Namazo or Rozon Ka Bayaan
Naqsh e Sulemani Mahroof Bah Tawezat e Sulemani
Khuwaja Ashraf Ali Sahib Likhnowi composes this naqsh book, and it consists of 75 pages. In this naqosh ebook, you can read the following topics;
Tark e Haywanat Jalali o Jamali
Quran e Pak ki Surton Ke Khuwas
Ism e Azam ke Bayan
Amliyat o Tawezat
Amliyat e Taskherat
Nazar e Bad or Asaib ki Dafah Karney Ka Amal
Tawezat and Amal for Shifa e Amraaz
Dard e Sir or Danton ke Dard ka Tawez
Bawaser Ka Rohani ilaaj in Urdu
Naqsh e Sulemani Arwah Sehr Tillismat
It is a compelling and top-rated amliyat book, In which all the amliyat o naqosh was very useful. You can read about Falnama of Stars, Qamar Dar Aqrab, Zuban Bandi Ke Amliyat o Naqosh, Asaib ko Bhagney ke Naqosh, Sehr or Tillism ka Khatam Karney Ke Naqosh, Pasand ki Shadi or Hub Ke Lajawab Tawezat o Naqosh.
Asli Sulaimani Jado
This book is viral in Tillismati Duniya, and it is one of the best black magic books. It consists of 112 pages. In this magic Kitab, you can read about the following magics;
Misar Ka Sifli Jado
Tillismati Uloom Sekhna
Izat or Tarqai Hasil Karney Ke Amaal
Taskher e Khalaiq o Aalam ke amliyat
Amliyat for Hub o Hajat in Urdu
Naqsh of Sulaimani Jadu
Kalay or Sifli Jado Ka Tord in Hindi
Sulaimani Angothi Ka Magic
Bottom Line
These Amliyat books are an excellent gift for you if you are keen to read Sulemani magic books. Because all the Amliyat o Tawezat in these books are very useful. The characteristic of these Amliyat o Naqosh is that they are very Powerful and begin to take effect in the blink of an eye. So read these books and enjoy.