Taskher o Hazari Rohaniyat o Jinaat is composed by Syed Mehboob Ali Shah in the Urdu language. This book is consists of 28 pages.
Hazari e Jinaat PDF Book in Urdu
In this ebook, you can read about Moukalat ki dawat, Hisaar ka tariqa, Rujjat, Salam Rijal ul Ghaib, Amal hazari Younaas Hakeem ul Jin, Fareed Jin ko hazir karna, Moukal Norani ki taskher, Hamzad ka amal, Surah ikhlas ke moukalat, Tillismi chadar or angothi ka hasool, Sulemani topi, online istikhara e Ghousia, pasand ki shadi ka taweez.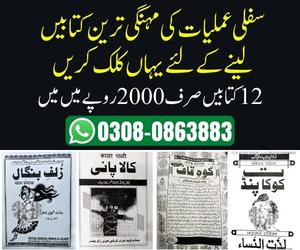 You can download this ilm e taskheer book in PDF format for educational purposes.